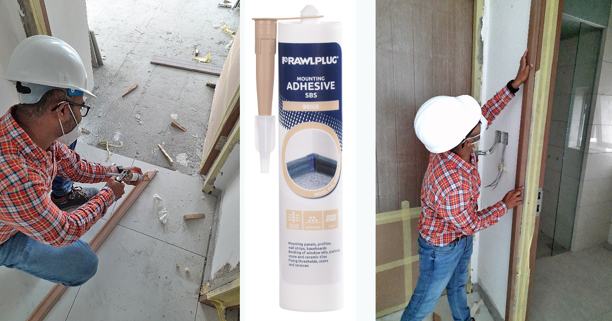 Nowadays using adhesives as a bonding agent becoming a vital part in construction industry.  Applying adhesives is more effective and better solution rather than having the traditional mechanical process. Adhesive binding techniques are used to bond different materials together which gives the high strength by distributing the stress on the load equally.
Rawlplug comes with the better solution by introducing R-SL-FIX-SBS adhesive which is having high adhesion and recommended for mounting and finishing works. This product has been approved for the base materials such as concrete, Masonry, wood, plasterboard, oriented strand board, High density natural stone, PVC profile and glasses.
Rawlplug R-SL-FIX-SBS adhesive provides the high adhesion on applications of installation of panels, profiles, moldings, and wall skirtings. Moreover, it can be used to bond window sills, plafonds, stone, ceramic tiles, fixing door steps, stairs and cornices.
Project Reference in Sri Lanka – Capital twin peaks (Contractor- Sanken construction)
Rawlplug  R-SL-FIX-SBS adhesive is used to bond the architrave around the door frames.
Article by:
Divian Jeganathan – Senior Sales Engineer